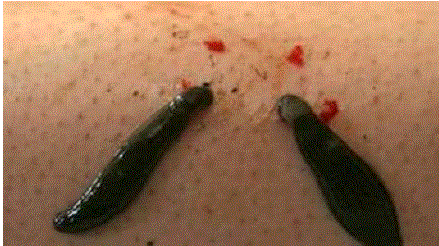 Leeching (Ta'leeq), also called Hirudotherapy involves the use of leeches for bloodletting. It is one of the regimental therapies of Unani medicine used for curing some body ailments.
Ta'leeq is a unique method of removal of "Mawaad-e-Fasida" (morbid matters) from the body or blood. It purifies the blood by letting "wastes" and "toxins" drain out. Leeches are used to suck out and draw blood from different parts of the body especially from deeper tissues.
Process of Leeching (Ta'leeq)
In Unani system there are very specific guidelines for the application of leeches. Certain conditions have been laid down for applying this method i.e. selection of leeches, the kinds of leeches to be applied, their sterilisation processes, storage of required leeches and the quality of water from which they are to be obtained. There are mainly three stages of leech therapy namely viz., pre procedure, procedure and post procedure.
Some general guidelines to be followed during the processes are as follows:
The selected point of application of leeches should be washed with a solution of borax and rubbed until it gets red.
Leeches should be washed first and then applied.
A little clay or blood should be smeared at the selected points to enable them stick better.
After achieving the target and when they get distended, leeches should be detached by dusting salt borax or the ashes of burnt cloth, wool or sponge.
The main benefits of Ta'leeq (Leeching) are:
It is useful for treating some skin diseases like baldness and ring worm infestation.
It is found to be effective in pain management in the cases of arthritis, meningitis etc.
It is very effective in the management of gangrene.
It is very useful in the management of hypertension and myocardial infarction (MI).
References:
http://www.indianmedicine.nic.in/index4.asp?ssslid=137&subsubsublinkid=9&lang=1
http://www.ccrum.net/?s=regimental+therapy
http://www.tkdl.res.in/tkdl/LangDefault/Unani/Una_Regimental.asp
https://india.gov.in/gsearch?s=unani&op.x=0&op.y=0&op=Search
http://www.ccimindia.org/unani.html
http://jamiahamdard.edu/faculty-of-medicine/#
http://www.nium.in/facilities.php
http://www.ncbi.nlm.nih.gov/pmc/articles/PMC3377041/